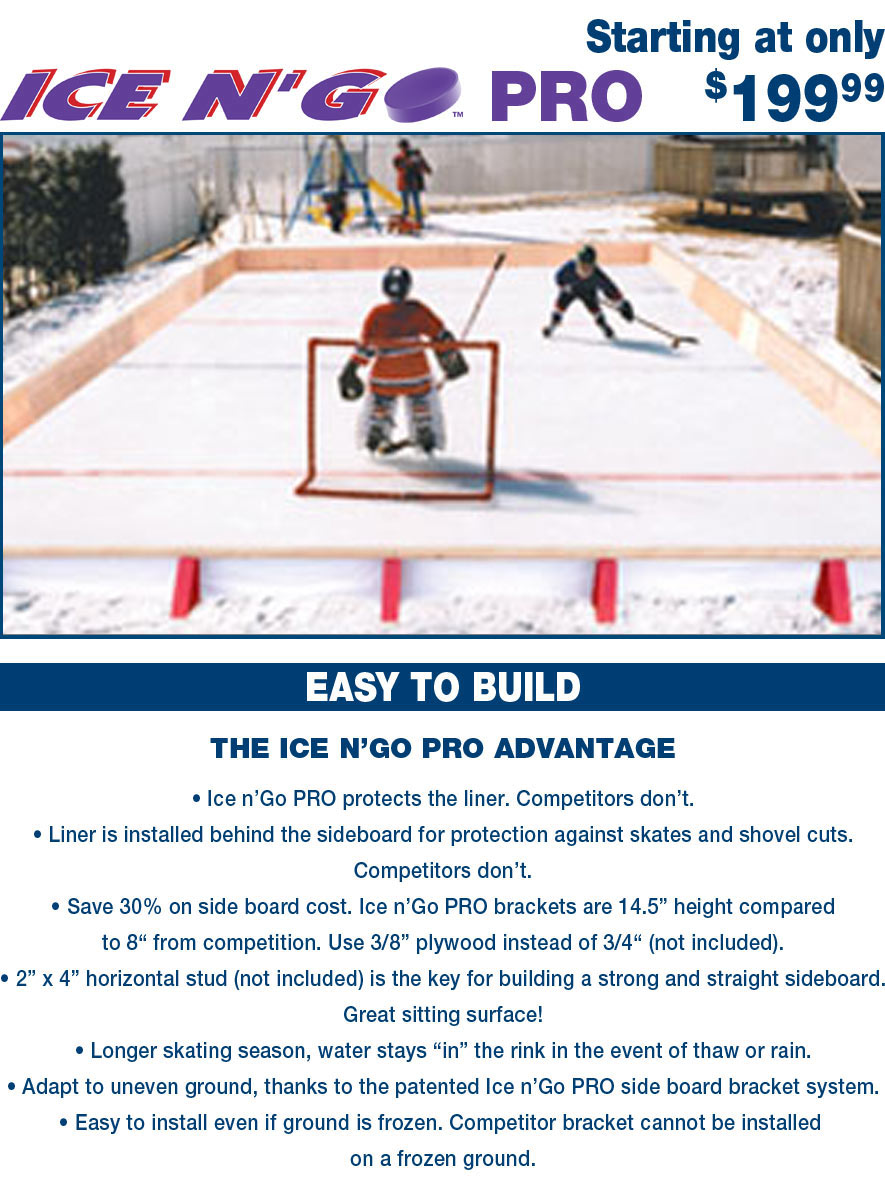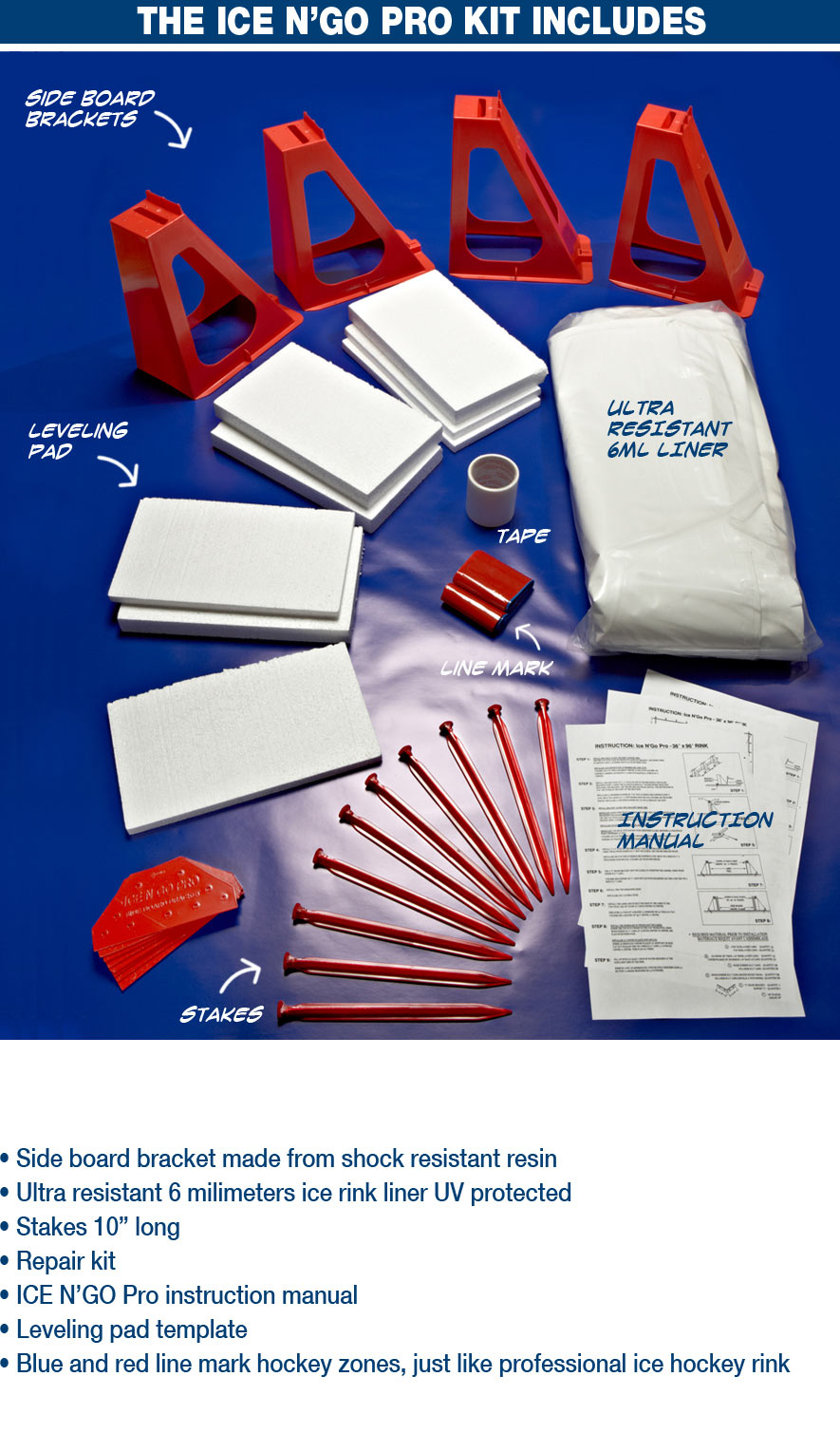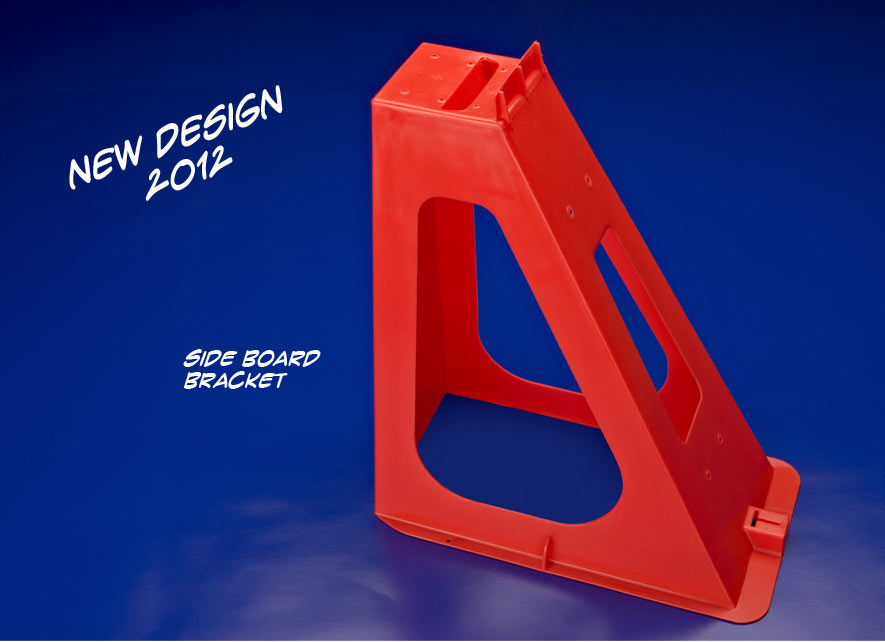 Two models to choose from:
Residential grade and institutional grade
Do your homework! These side board bracket rinks are bulky.
Ask the competition the shipping cost before comparing prices.
WE OFFER FREE SHIPPING!
4 DAYS DELIVERY !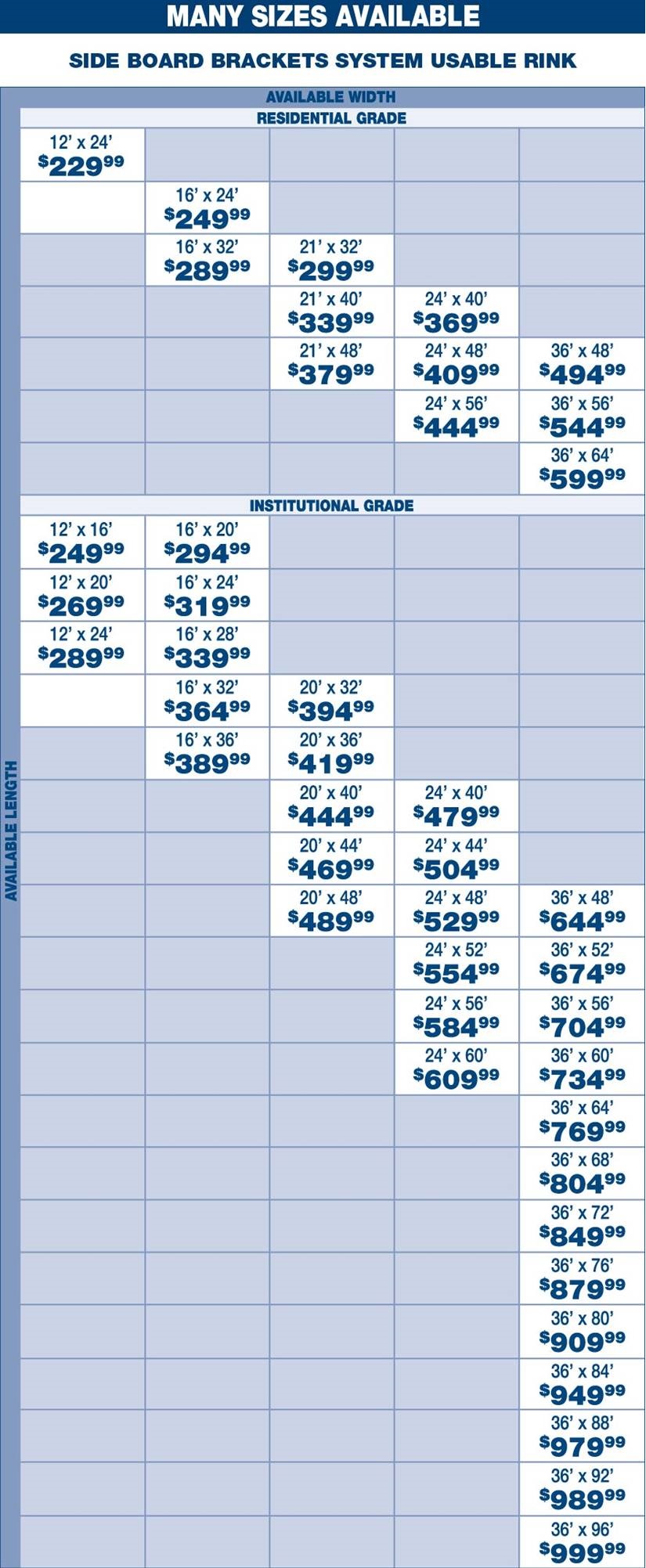 FREE SHIPPING IN USA AND CANADA*
*See exceptions below
NO STATE AND FED. TAXES
4 DAYS DELIVERY !
FOR OUR US CUSTOMERS
*USA except AL, ID, CO, SC, WY, ND, UT, MT
*CANADA except BC, Nunavut and Northwest Terr, remote rural areas
Please e-mail us for a small quote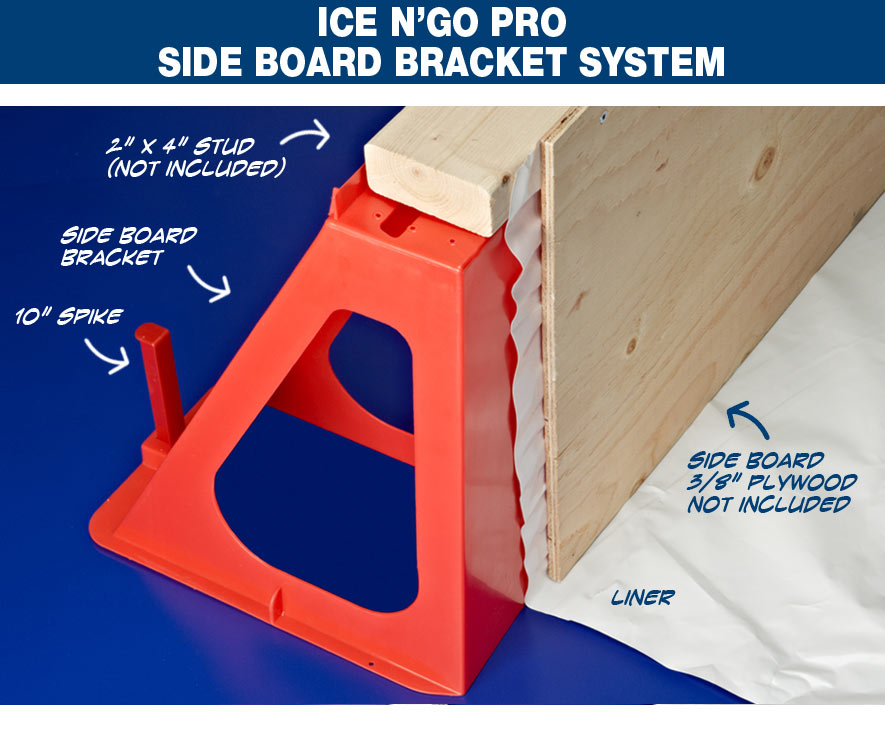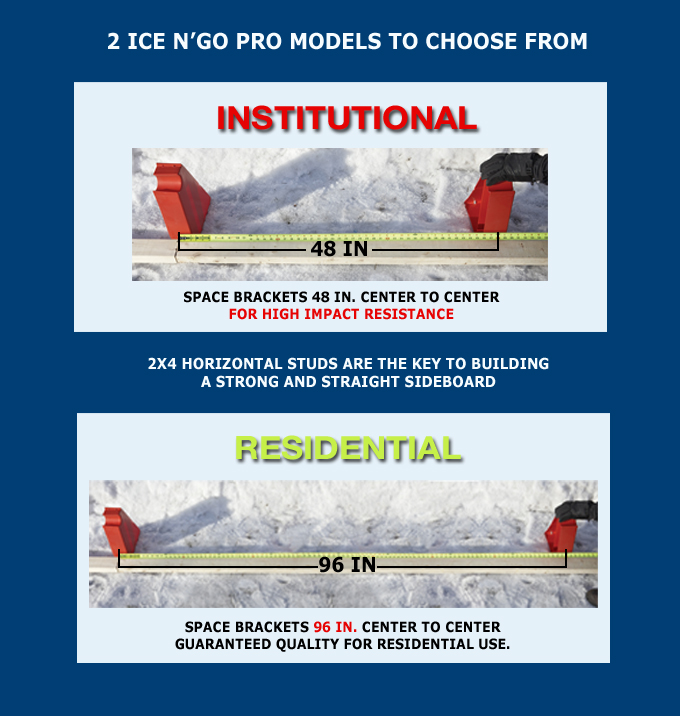 Step 1
Hammer in place the sideboard brackets using the 10-inch stakes included in the kit.
Easy to install, even if ground is frozen. Competitors brackets cannot be installed on a frozen ground.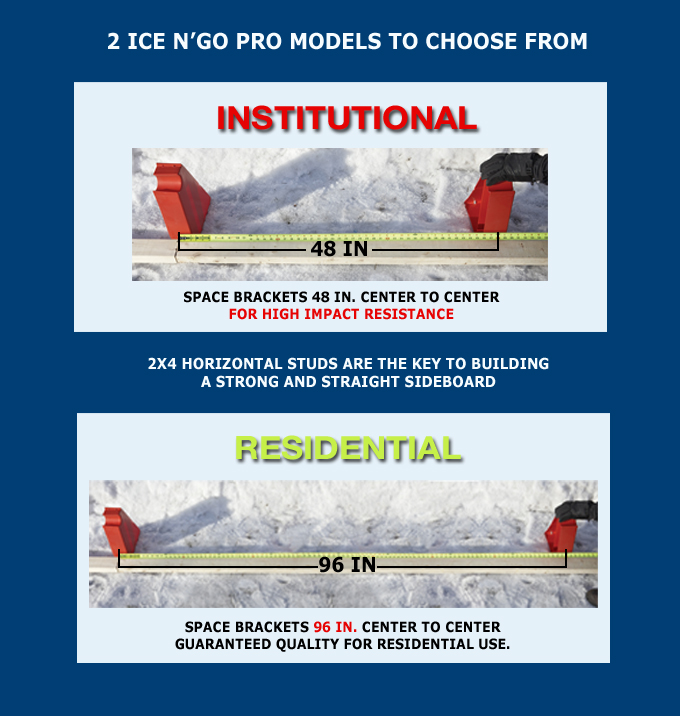 Step 2
Spread the brackets evenly. Use the 2-by-4 wood studs (not included) as a guide to properly align brackets. THIS IS THE KEY TO BUILD A STRAIGHT AND STRONG SIDEBOARD.
Step 3
Install the 2-by-4 wood studs on top of the sideboard brackets using wood screws (not included).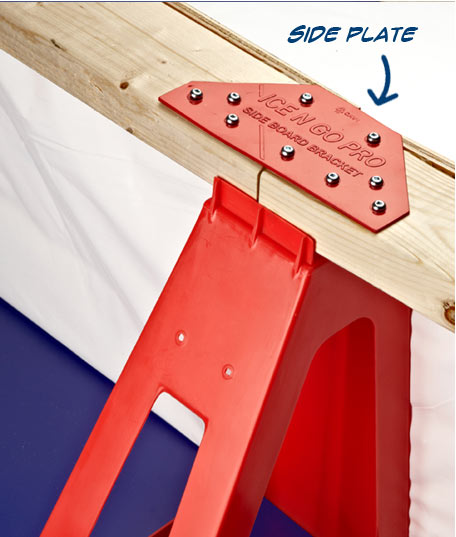 Install the reinforcing side plate at eash 2"x4" junction using wood screws (not included)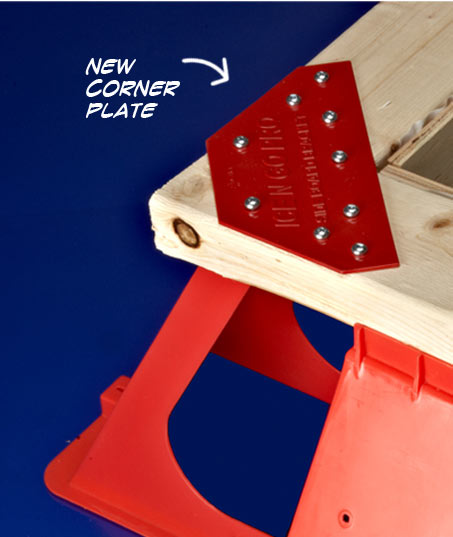 Step 4
Install the reinforcing corner plate using wood screws (not included) at each corner
Step 5
Lay down liner in the rink. Staple edge to the 2-by-4s. Install sideboard plywood, screw top of plywood to side of the 2-by-4s. LINER IS NOW BEHIND THE PLYWOOD FOR PROTECTION AGAINST DAMAGE FROM SKATES, PUCKS AND SHOVELING
-
COMPETITION DOESN'T.
Step 6
Ice'N'Go sideboard system make a great sitting surface.
Ultra strong bracket system
Hold up to 12 inches of water
Shipping and handling charges included in price
FREE SHIPPING UNTIL NOV. 30th FREE SHIPPING
FREE SHIPPING IN USA AND CANADA*
*See exceptions below
NO STATE AND FED. TAXES
FOR OUR US CUSTOMERS
*USA except AL, ID, CO, SC, WY, ND, UT, MT
*CANADA except BC, Nunavut and Northwest Terr, remote rural areas
Please e-mail us for a small quote