ICE N'GO PRO INSTITUTIONAL 24' X 56'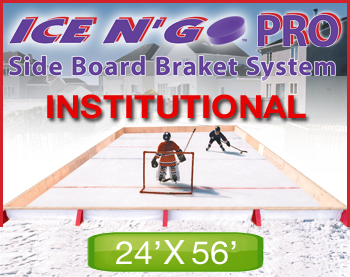 The Ice N'Go Pro advantage:
• Protect the liner from skate and shovel cuts
• Save 30% on sideboard cost!
• Ice N'Go Pro side board bracket system is 14''.5 height compare to 8'' from competition…
• Use 3/8'' plywood instead of 3/4''.
• Great sitting surface:
• Top of sideboard use a 2'' x 4'' stud that greatly strengthen the structure
• Hold up to 12'' of ice.
• Save 25% on shipping cost (compact design)
• 44 Brackets – Liner is 28'x 60'
• Instruction Manual and repair Kit
• Hockey lines included
• 10'' Stakes
• Reinforcing plates for 2''by4''

Free Ice Resurfacer, a value of 49.99$!

Go to: www.icengo.com for more information

Free Shipping, a value of 149.99$

!! OUT OF STOCK !!